In-Circuit Design Pty Ltd (iCD), Australia, developer of the iCD Design Integrity software, incorporating the iCD Stackup and PDN Planner, in conjunction with Zmetrix, Inc., manufacturer of impedance test systems utilizing scanning TDR technology, have released a new interface that provides a complete design to fabrication, impedance simulation and testing solution.
"The impact of lower core voltages and faster edge rates has pushed the frequency content of typical digital signals into the gigahertz range. As such, the majority of high-speed designs, these day's, require controlled impedance transmission lines in order to manage signal integrity including coupling (crosstalk) and electromagnetic radiation," said Barry Olney, CEO of iCD. "It is imperative that the impedance of signals is simulated using a precision field solver, during the design phase, and then measured, with an accurate impedance test system, during PCB fabrication to confirm results."
The new interface allows the user to export the simulated impedance for each signal layer of a multilayer stackup from the iCD Stackup Planner into the ZMetrix ZScan software. The ZMetrix impedance test system is then used to probe the PCB impedance test coupons and provides a simple pass/fail result of the scanning time domain reflectometer (TDR) using an extremely fast 20ps pulse with a bandwidth of 20GHz.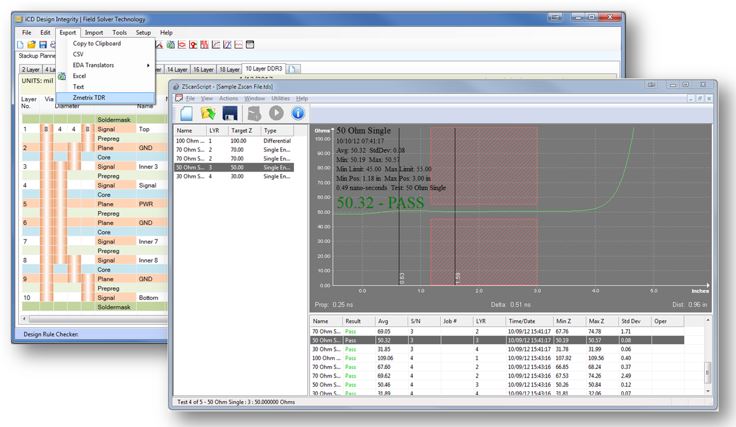 "The ZMetrix ST600 and ST800 impedance test systems are delivered with ZScan software that automates the data gathering process through an intuitive user interface. Calibration, verification, data logging, and statistical reporting are all fully supported by the software," said ZMetrix President Scott Merrell. "The accuracy is within 1%, across the entire impedance range from 10 to 200 ohms, which is far superior to competitive solutions."
About In-Circuit Design Pty Ltd
In-Circuit Design Pty Ltd, based in Brisbane Australia, develops the iCD Design Integrity software, incorporating the iCD Stackup and PDN Planner This PCB design service bureau specializes in board-level simulations. For further information or to download a free evaluation of the software, please visit www.iCD.com.au.
About ZMetrix, Inc.
ZMetrix, Inc. with corporate offices in Springville, Utah develops industry leading Impedance Test Systems and associated ZScan software. For information on the ST600 and ST800 products please visit www.ZMetrix.com